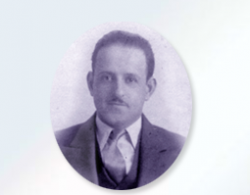 The Man Who Gave Us The Squeegee to Clean Windows
December 25, 2013
Ben Warren">Ben Warren
abu dhabi window cleaning clean dubai window cleaning squeegee window cleaner
Until fairly recently, the squeegee was the tool that everyone associated with professional, and to a certain extent, domestic window cleaning.  It's cheap, easy to use and does what we expect it to do.  We all know that modern window cleaning technology has brought us other methods of cleaning, with the pure water (reverse osmosis) cleaning system, using water fed poles.  However, in our mind, there will always be a place for the squeegee, and for that we must thank a man called Ettore Steccone, the inventor of the modern day squeegee.
When the Italian immigrant invented the squeegee in the US, I'm sure he didn't imagine it would
revolutionise the window cleaning world the way it has.  Imagine, a product invented in 1936 in the US and we're writing about it today in Dubai..! 
Ettore Steccone, was a window washer, he invented the modern squeegee in Oakland, USA.  Ettore created the squeegee out of his garage and turned it into a big company.  Today the company Ettore started has 80 employees and $50 million in annual revenues.  The companies products are available to window cleaners all over the world, including here, in Abu Dhabi and Dubai.
The squeegee wasn't an instant success however.  Initially Ettore had to give away his products, mainly to professional window cleaners, in order to create interest in the market they dominate today.  Before Ettore, workers used the Chicago squeegee, which had two pieces of rubber and 12 screws. It was heavy and difficult to change the rubber. Steccone's squeegee was lightweight, with one piece of rubber and two clips. It was easier to use, but people were reluctant to switch.
Ettore Steccone died in 1984, however his company still continues to be family owned and based in Oakland.  They've had ups and downs like most companies, and have had to branch out into the home consumer market to achieve growth in difficult and competitive market conditions.  But they're still here, strong and giving the world, from the USA to the UAE, great window cleaning products.
As you know, The Clean Team do not generally use conventional cleaning methods for external window cleaning.  We use pure water cleaning as it's safer, easier and results in a better finish which lasts for longer.  However, internal window cleaning still requires the squeegee to clean.  Yes there are other alternatives, we've tried them and our view is, this is one area where old really is gold.
Such a simple invention.  Yet the great ones invariably are.  A blade of rubber, and a handle perfectly angled for its purpose.  Families in Al Raha, Arabian Ranches and the rest of the world will be using the squeegee for years to come.
By Ben Warren
www.thecleanteam.ae