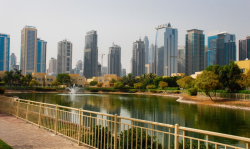 A Poem for The Clean Team
December 28, 2013
Ben Warren">Ben Warren
Abu Dhabi Customer Dubai Emirate Hills Happy Meadows Poem The Clean Team Window Cleaners Window Cleaning
This is really fantastic.  A loyal Clean Team residential customer from the Meadows in Dubai, has written us a poem to thank us for the fantastic villa window cleaning service she's been receiving. 
We are thrilled, not only because she's happy with The Clean Teams service, but also for the fact that she has taken the time to write something so thoughtful. Take a read, I'm sure you'll agree she's clearly talented:
The Clean Team are here, the hero's of today,
Watch the way they operate, and take that dust away,
They'll wash your windows, not a mark to be seen,
From Dubai to Abu Dhabi, they make everything gleam,
For us they take the heat, in the summer extreme,
They sweat, maybe blood, but a tear is never seen,
The kids love watching them, saying mummy that's me,
When finished they call, "ma'am, you want to come and see",
I look at their work, never a problem to be said,
It's thanks I give them, and a compliment instead,
As The Clean Team head off, see you next month they shout,
For sure guys, I'll see you then no doubt,
Window Cleaning is their work, and they do it with pride,
Villas and Showrooms, they take it all in their stride.
Written by Victoria, The Meadows, Dubai, UAE
The Clean Team would like to say a big thank you to you Victoria for these kind words.