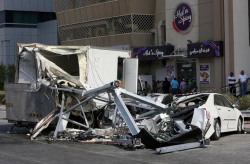 Safety – Rope Access Facade and Window Cleaning
March 27, 2014
Ben Warren">Ben Warren
Abu Dhabi Cradle Dubai facade facade cleaning high rise maintenance rope access Tower window window cleaner Window Cleaning
We've all heard the tragic stories of high rise window cleaning professionals being involved in accidents that lead to their deaths.  These accidents are generally not caused by direct negligence of the victims own actions, but are more commonly caused by equipment failures, lack of training and awareness, and employers failing to ensure the correct standards are implemented and constantly complied with.  I'm not referring to incidents here in countries far from the UAE.  We have had window cleaners fall to their deaths in Dubai and many workers fall to their deaths from scaffolding in Abu Dhabi.  As a result of this, the government of Abu Dhabi introduced much needed legislation to reduce such tragic incidents. 
Why do these incidents happen and how can we avoid them?  Well, there are many reasons for the, primarily education and equipment standards. 
When it comes to high rise façade and glass cleaning, a fact that many of you may find surprising is that the use of cradles and lifts is actually much more dangerous than rope access cleaning.  Which is why we only use rope access for high rise towers.  In addition to the safety point, it's also more efficient and cost effective. 
This is not The Clean Teams view, this is the view of industry experts. 
Let's remember that tragic case of K Sudarshan, 24, and J Raju, 29, who were trapped in their cradle above Khalifa Street, Abu Dhabi for four hours before they fell to their deaths.  The  Abu Dhabi Municipality said the company should have called Civil Defence when the men were first trapped, the incident was been referred to the courts.  However, this comes back to our education and equipment point. 
The trend today is very much to work on alternative methods of window cleaning without using cradles.
Window Cleaning Companies must ensure the have procedures in place and these procedures meet best practice standards and are regularly reviewed.  Rope Access Technicians must always be suitably qualified.  The International Rope Access Trade Association ("IRATA") trains a certifies Rope Access Technicians.  Building owners and Facilities Management Professional must always ensure they only hire IRATA qualified professional s to conduct any rope access maintenance work. IRATA is not a Dubai or Abu Dhabi based association, this association is truly global with standards to match.
This is why we only use rope access for high rise maintenance.
It's safer than a cradle. We don't have to depend on equipment provided by other companies. The technician goes up and down using his own device and he is in control. He tests the equipment before using it and ensures its working. There are no machines involved. 
The way it works is each individual is suspended on two independent ropes, a primary and a back-up. Every job is supported with a full rescue scenario, unlike building maintenance equipment which has no back-up system.
The challenging building designs of Dubai and Abu Dhabi make rope access cleaning the preferred choice by those in the know.  Rope access is much safer, faster, hassle free and requires less manpower.