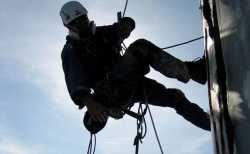 Abu Dhabi and Dubai Window Cleaning Companies Stop Using Cradles
April 25, 2014
Ben Warren">Ben Warren
Abu Dhabi Window Cleaner abu dhabi window cleaning Abu Dhabi Window Cleaning Companies Dubai Window Cleaner dubai window cleaners dubai window cleaning Dubai Window Cleaning Companies facade cleaning glass high rise IRATA rope access rope access cleaning rope accessed Tower
We've all heard about the incidents some of which have lead to deaths of window cleaners across the UAE, including Abu Dhabi and Dubai.  If you're a follower of the Blogs we write on The Clean Team web site, you will know we are very passionate about the safety standards in our industry. 
When reading stories about such incidents, not many people will look further into why these things happen.  People will generally take the view that high rise window cleaning is a dangerous profession and this kind of thing can be expected from time to time.  However, this does not necessarily need to be the case. 
First of all we would like to point out that close to 100% of these incidents happen with the use if cradles that hang from the top of buildings.  This is why The Clean Team do not use cradles to clean the glass or facades of high rise buildings.  Instead we use rope access.  This might come as another surprise to many of you.  Most people see rope access, or abseiling as more dangerous than using cradles, but this is not the case.  Rope accessed cleaning is the safest method of cleaning high rise towers if executed by properly certified individuals and companies, this is a fact.  IRATA the International Rope Access Trade Association is a leading organization which provides certification. 
It appears that this fact is now being taken more seriously within the industry with many other companies stopping the use of cradles. 
Imagine what was going through the mind of K Sudarshan, 24, and J Raju, 29, who were trapped in their cradle above Khalifa Street for over four hours before it fell to the ground killing both instantly.
A spokesperson for the company that employed the two individuals said "We are working on alternative methods of window cleaning without using cradles, which involves maintenance by other agencies". 
"We are reviewing policies and procedures and have stopped all window, glass and façade cleaning using cradles since the incident. We have immediately started notifying clients about our new rope access cleaning method. It will be implemented in phases, starting straight away."
Rope access, used at most major buildings and landmarks in Abu Dhabi and Dubai, such as the Burj Khalifa and the Burj Al Arab, is a safer and more secure option for window cleaners working at heights, the spokesman said.
"It is proven to be safer than using cradles. The major advantage being that we don't have to rely on equipment provided by third parties. The cleaner goes up and down using his own device, which is under his control. He tests the equipment each time before use. There are no machines involved."
The Clean Team couldn't agree more and it seems a lot of the companies in our industry do too.  Cleaning companies rent cradles from maintenance or property-management companies.  They have little or no control over the maintenance of such equipment, hence are at the mercy of others.
Our thoughts are with the families of those that have lost their lives in this industry.  To stop this kind of thing happening again, please ensure you only hire qualified companies that adopt the highest safety standards.