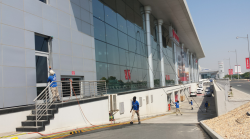 Responsible Window Cleaning Company – Dubai, Abu Dhabi, UAE
July 15, 2014
Ben Warren">Ben Warren
Abu Dhabi Window Cleaner abu dhabi window cleaning Abu Dhabi Window Cleaning Companies Dubai Window Cleaner dubai window cleaning Dubai Window Cleaning Companies facad facade cleaning high rise rope a rope access cleaning rope accessed
People often ask how we run a window cleaning business in the UAE during the summer months.  With Dubai and Abu Dhabi temperatures reaching up to 50 degrees, how do the staff cope?
We're not going to lie, it certainly is a challenge working during the summer months.  Whether we're window cleaning villas in Dubai, or cleaning the façades of a high rise tower in Abu Dhabi using rope access, the heat is an issue. 
However, as responsible employers, we take reasonable steps to ensure the well being of our window cleaning staff and rope access technicians.
Further to the steps we take, which includes working during the night, providing regular breaks, providing protective clothing etc., there is also the  mandatory midday break for individuals that work in the sun during the summer months.  In Dubai this started from June 15, and is enforced by the Ministry of Labour.
Companies like The Clean Team have to give a two-and-a-half hour break from 12.30pm to 3pm to staff who work in open areas.  This is a three-month rule which will be enforced from June 15 until September 15 this year.
The ministerial decision also stated that daily working hours must not exceed eight hours and during Ramadan six hours.
Next time you're sweating in the desert heat, spare a thought for the 1000's of laborers that are working in these temperatures all day. 
When required to hire staff to work externally, whether it be a gardener, or window cleaner, please check the record of the company and ensure that they are a company that acts responsibly and cares for the well being of its employees.