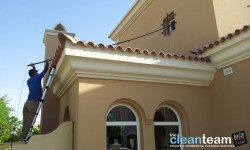 A Career as a Window Cleaner – Dubai, Abu Dhabi, UAE
August 26, 2014
Ben Warren">Ben Warren
Abu Dhabi Window Cleaner Career Dubai Window Cleaner rope access rope access cleaning Window Cleaners Window Cleaning
The Clean Team is a specialist cleaning company with a particular focus on window and external cleaning services.  For those of you out there that are considering a career as a window cleaner you need to ensure you do your research properly.  Our window cleaning teams work on domestic and commercial sites, cleaning facades, cladding, windows, doors and other smooth surfaces.  They sometimes use a ladder to reach the first floor of a building, or carbon fiber water-fed poles for buildings up to 20 meters high.  For high rise towers and sky scrappers (which are plentiful in Dubai and Abu Dhabi) we use roped access.  The Clean Team do not use cradles as we consider these to be unsafe.  In summary, If you've got a head for heights, aren't scared of the sun, and like working outdoors, there could be opportunities for you with The Clean Team.
A must is being able to work quickly and efficiently, and you must have a good awareness of your environment and health and safety.  Due to the physical aspect of the job, you must also have a good level of fitness. 
We don't require any standard experience or qualifications to become a regular glass cleaner.  Experience in a customer service role is valued, as is some sort of technical experience such as electrical or mechanical work for when working with our reverse osmosis systems. 
Work Activities
As a glass cleaner, you would wash windows and other glass surfaces on buildings using ladders, squeegees, water-fed poles or rope access equipment (abseils).  You could work on different types of buildings, including:
–       Residential villas
–       Educational establishments
–       Offices
–       Shops and restaurants
–       Hospitals
–       Hotels
Day to day duties will include: 
–       Checking equipment
–       Mixing cleaning chemicals and detergents
–       Where safe, using ladders
–       Washing windows at medium to higher level using water-fed poles
–       For qualified personnel, cleaning windows on high buildings like tower blocks using ropes
–       Record keeping of payments and completing customer reports
–       Safely cleaning and storing equipment like poles, ladders and squeegees and transporting them between jobs.
From time to time, you might also be asked to do other work at heights, such as cleaning gutters, roofs and possibly cleaning water tanks and signage. 
Hours of Work
The Clean Team complies with all UAE labor laws.  If you are employed as a Dubai Window Cleaner or Abu Dhabi Window Cleaner, you are required to work 6 days a week.  You may work longer hours whre work requires.  Weather conditions may also require night shift work during the summer months.  Your place of work will not be standard.  One day you might be in Jumeirah, Arabian Ranches, the Springs and the Meadows, and the next day may take you to Al Reef, Al Raha, Dubai Marina and Jumeirah Village.
Will I get in? 
We are interested in your practical skills, ability to work at heights and your awareness of health and safety.  Show us that you have experience in a customer service role and that's a plus.  Excellent communication skills is a key requirement.
A UAE driving license, or one from your home country, is useful, but not essential. 
Training and development
High rise window cleaning, for example on an office block, requires trained personnel in the use of power-operated access equipment (scissor lifts and cherry pickers) or rope access cleaning.
You can complete courses through the Industrial Rope Access Trade Association (IRATA) and the International Powered Access Federation (IPAF).
– Industrial Rope Access Trade Association
– International Powered Access Foundation
As a window cleaner, you should have:
–       a desire and willingness to work externally in all weather conditions washing windows
–       the ability to work at high levels
–       you should have a eye and awareness of safety requirements
–       the ability to learn to use power-operated lifting equipment, for high level cleaning.
For more information, please review our web site www.thecleanteam.ae, or contact us info@thecleanteam.ae.