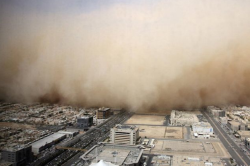 Dubai Window Cleaning Companies Operating in the UAE Climate
November 5, 2014
Ben Warren">Ben Warren
Abu Dhabi Abu Dhabi Window Cleaning Companies ajman cleaning desert Dubai Dubai Window Cleaning Companies glass cleaning high rise home hot house clean residential rope access sharjah summer Tower villa glass villa window cleaning window cleaner Window Cleaning window cleaning companies
The United Arab Emirates, has what we call a tropical desert climate due to its location within the Northern desert belt.  As we know too well, the summers are extremely hot and humid and that when most of our customers forget about their glass cleaning.  With average temperatures hitting highs of around 40 °C plus and with overnight lows around 30 °C.
The highest recorded temperature in Dubai is 52.1 °C (126 °F) this was in the summer of July 2002.  What do we love most about the UAE, its got to be the fact that most days are sunny throughout the year.  Winters are warm and short with an average high temperature  of 23 °C and overnight lows of 14 °C.  The Clean Team love working during the winter months.  Staff can wash windows and floors in temperatures that are, well, just normal.
The weather in Dubai can bring short and irregular rainfall as is typical for the Middle East.  The rain brings with it sand which we then wash away using our unique window cleaning methods and systems.  Generally the rainfall occurs between December and March. The weather during this period is best described as comfortable.  Our customers, both residential and high rise, throughout the UAE, including Dubai and Abu Dhabi will generally enjoy the outdoors during these months and require our window cleaning services more frequently.
Statistics show that February is the wettest month in Dubai and Abu Dhabi with an average of 35 millimetres of rain. Whereas the weather is extremely dry in the month of June with little or no rain.
During the hot summer months, a low pressure area develops over Dubai and Abu Dhabi forcing strong north-westerly winds to blow from the Kingdom of Saudi Arabia. These winds, also known as shamal (north) in Arabic, become gusty and unpredictable on reaching the UAE.  As a result we get what's known as sandstorms.  Sandstorms are not quite what we saw in Mission Impossible.  But they can be quite significant, leaving buildings, garden furniture, glass, windows, cars etc very dusty and sandy.  We've all seen what our villas and apartments look like after a significant sandstorm.  It is the days following sandstorms that we see our residential clients rushing for villa window and glass cleaning services, balcony cleaning services and building washing services.
Our unquie reverse osmosis window cleaning technology is perfectly suited to work in the UAE climate.  Our customers throughout Dubai and Abu Dhabi have experienced the difference.  Not only do windows get a deep clean, which is very different from conventional cleaning methods.  But the windows also remain much cleaner for longer, as no sticky residue is left on windows and no chemicals are used.  Our cleaning is eco friendly too.
Our technology also means our window cleaners are safer and are left with a greater level of job satisfaction as our customers are always happy.