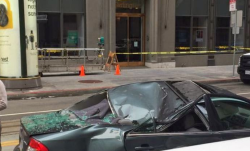 Dubai Window Cleaners – Keep Safe
December 9, 2014
Ben Warren">Ben Warren
Abu Dhabi Window Cleaner abu dhabi window cleaning Dubai Window Cleaner dubai window cleaners dubai window cleaning glass cleaning UAE window washing
Whether you work for The Clean Team or one of our competitors, if you are a window cleaner in Dubai, Abu Dhabi or anywhere else in the world, we urge you to keep safe.
Last month a 58-year-old window washer fell 11 stories from a building on to a moving car in San Francisco.  How sad, the guy is fighting for his life.  The man's name and hometown have not been released.
A family member was quoted saying, "we're amazed that he fell from such height and still survived. Landing on the car must really have helped, and we are so thankful for that".  They family asked not to be identified.
Police stated that the man was moving equipment on the roof of a bank building in San Francisco's finance district and was not on a cradle or window washing platform when he fell at approximately 10am crashing against the roof and back window of a sedan.
"He is a very strong man, and is fighting for his life back. He has had a few surgeries and is still in critical condition, but doing a little better," the statement said. We would like to thank all Medical professionals at the hospital for their help".
Many people came forward to help the individual when he fell, including a nurse who was walking home. No one else was injured, including (rather surprisingly again) the driver of the car the man fell on.
"The fact that he hit that car at the right time it's just amazing," he added. "He is one really lucky guy."
Our prayers are with him and his family at this difficult time.  In the meantime, please be safe.