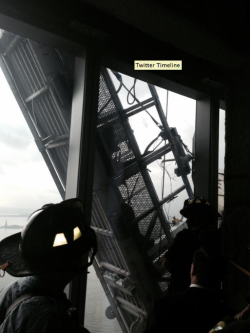 High Rise Window Cleaning is safer using Rope Access
May 6, 2015
Ben Warren">Ben Warren
Abu Dhabi Window Cleaner abu dhabi window cleaning Dubai Window Cleaner dubai window cleaning facade cleaning high rise rope access Tower
Ok so todays blog is a few months late and it's not even about a window cleaning incident in Dubai or Abu Dhabi.  In fact, today's blog relates to something that happened far from the United Arab Emirates, in New York City, America in November 2014.
Two very unfortunate window washers were rescued from a hanging cradle on the 69th floor of the world famous One World Trade Center.  A brave team of fire fighters had to saw through the windows and safely rescue them. 
Just imagine the thoughts going through the minds of these two individuals.  It was said to be a dramatic rescue hundreds of feet above the ground, the rescue team cut through the glass, slung a harness to the cleaners and reached out to pull them inside the high rise tower.
Reports have said that the two workers were trapped for about an hour and a half after the cables securing the platform malfunctioned, leaving it dangling at a near seventy-five degree angle on the south side of the tower.
At a press conference by the World Trade Center representatives said that the two window washers had been taken to Bellevue hospital to be treated for "mild hypothermia" but are otherwise in good condition. As they say in the Arab world, God, or Allah is the giver of life, and he is also the taker.  This truly wasn't there time to go.  The World Trade Center will be taking steps to avoid a receipt of this kind of incident.
The department responded after calls from witnesses who saw the cable drop and platform collapse with workers inside the basket.  One on of the floors, a member of a cleaning company was carpet cleaning and saw something fly past the window.  Members of the public congregated to watch at a safe distance from any glass that potentially could have fallen. A tourist who was there said she was "mesmerized" by the rescue, although details were hard to make out from the ground.
New Yorks One World Trade Center opened for the first time on 3 November, when the first tenants moved in. About 3,400 employees will take up office space from the 20th to 44th floors of the 1,776ft-tall tower in the coming months.  The remainder of the building's 104 stories are planned to be filled next year.
Our regular readers will know that The Clean Team are not in favor of cleaning high rise tower facades using platforms or cradles.  We definitely prefer rope access cleaning as although some believe abseiling to be more dangerous, executed properly, abseiling using rope access is actually a much safer way to clean towers. 
We wish window cleaners in Dubai, Abu Dhabi and around the world, a safe working environment.