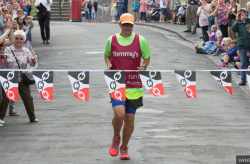 Window Cleaner Breaks a Record
September 4, 2015
Ben Warren">Ben Warren
Abu Dhabi Window Cleaner abu dhabi window cleaning Dubai Window Cleaner dubai window cleaning record breaker villa window cleaning Window Cleaning
We loved the recent news we heard about a fellow window cleaner breaking a world record.  This super fit individual is the first man to run 53 marathons in consecutive days. Wow.  I know what you're asking yourself.  Did this happen in Dubai at this time of year?  The answer no.  It did not happen in Dubai, or Abu Dhabi or anywhere in the UAE for that matter.  This is news from the UK.
Mark Vaz, 31, accepted this astonishing challenge to raise money for a baby charity after his wife suffered a string of miscarriages.  So not only is he super fit, he's also a great human being.  He has managed to run 26 miles every day since July 7 – while still working and completing his window-cleaning round.  The story just gets better hey.
He's lost a stone and a half because he cannot eat enough food to replace the 3,000 calories he is burning a day.  Incredibly the super star window cleaner is aiming to carry on the challenge – by doing 90 marathons in 90 days.
He has run more than 1,500 miles in just over 265 hours since beginning his challenge in Wolverhampton.  How many times is that from Dubai to Abu Dhabi and back?
Well-wishers cheered him on on Friday as he finished his 53rd marathon at the Black Country Museum in Dudley, in the Midlands.  He said: "I'm really happy to have achieved this.  "You won't believe the pain I've had to go through so far. I've picked up an awful lot of injuries.  Oh Mark, we believe you alright.  We can only imagine the pain your body must be going through.  Window Cleaning is not a easy job, but to add a marathon onto the end of each day of glass cleaning is just mind blowing.
"The first two weeks were so hard. I'd get home and have terrible pains in my back and legs.
"I had food poisoning the other day while I was running and I kept stopping to be sick. I had the worst stomach cramps.
"But I kept going because I'm determined to reach my goal and raise as much money as I can.
"It's great to have a world record but the charity is the most important thing."
He has now beat a world record set by Akinori Kusuda, of Japan, who ran 52 marathons in 52 days between January 30 and March 22, 2009.
Mark, we congratulate you from far away in Dubai and welcome you to join our very own marathon.  You make us Window Cleaners proud and we wish your charity the best in its important work.