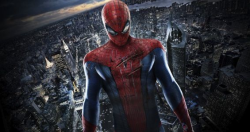 Spiderman Cleaning – Dubai
October 9, 2015
Ben Warren">Ben Warren
Abu Dhabi Cleaner cleaning Dubai facade glass high rise IRATA Pressure rope access Spider Spider Access Spider Cleaning Spider Man Spider Man Cleaning Spider Men Spiderman Spidermen Tower UAE Washing Window Cleaners
As you all know, The Clean Team offer high rise window and façade cleaning services in Dubai and Abu Dhabi using IRATA qualified rope access technicians who abseil down the exterior facades of building.  Most would think this is a dangerous job, but if staff are properly trained and follow the correct procedures, it is actually the safest and most efficient way to wash buildings and conduct any technical work at height.
What we find amusing is what people refer to our glass cleaners as.  Spiderman.  Wow.  It fills our window washers with pride every time they hear that.  I can assure you that we do not have anyone by the name of Peter Parker in our team, but isn't it just great how people, both children and adults, associate rope-access work with a much loved character such as Spider-Man.  It tells us that people look at us and feel a certain sense of excitement.  They want to know how we do it and what it takes.  The same feeling we all get when watching Spider Man.  Although we have never seen Spiderman cleaning glass or the façade of a building!
Did you know, Spider-man first came to be in the 1960's.  Initially it was in comic books published by Marvel.  The story is about a high school student with a secret identity.  Remember his famous quote:  "with great power there must also come great responsibility".  Since then, the character has gone onto feature in films, cartoons and various other commercial activities. 
There are some individuals known as real life Spider Men.  In 1981 a skyscraper activist by the name of Dan Goodwin climbed the Sears Tower in Chicago wearing a Spider Man suit.
On the other side of the world in Thailand, a man is nicknamed Spiderman after he rescued an 8-year-old boy with autism from falling off a ledge of a building, by climbing it with no ropes or other assistance.  He's rightly hailed as a hero.
The Clean Team has hard working honest guys looking to make a living for their families.  We love being called Spidermen.  But the reality is, we all wish we had half the powers the real Spider-man does.