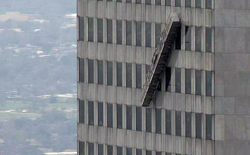 Safety First for our Dubai Window Cleaners
January 24, 2016
Ben Warren">Ben Warren
Abu Dhabi Abu Dhabi Window Cleaner abu dhabi window cleaning Cradle danger Dubai Dubai Window Cleaner dubai window cleaning facade facade cleaning glass glass cleaning IRATA rope access safety villa window cleaner Window Cleaning window washer
Now you all know how The Clean Team feel about using cradles to clean facades of high rise towers.  We love clean buildings, we hate dirty glass, but before all of this we value life.  Health and safety of our Dubai based Window Cleaners is always our number one priority.  This is why we refuse to clean using service cradles.  The Clean Team instead use IRATA qualified rope access technicians for its façade and window cleaning work.  IRATA is an international organization that adopts the highest safety standards which are proven to be the safest method of accessing areas of high rise buildings. 
Now to reinforce this message, you might have read last week about two window washers in Texas, America who were rescued after dangling nearly 1,000 feet off the ground for almost an entire hour.  It really must have felt like a lifetime for them.
Two men were working, near the top of the 75-storey JPMorgan Bank Tower in Houston, which is the city's tallest building, when disaster almost struck.  One of the cables securing the scaffolding they were standing on is reported to have snapped, resulting in the platform hanging and the window cleaners gripping on for dear life.
Onlookers were horrified and gathered below as the men radioed for help.  The platform was tilted to a 45-degree angle.
The Houston Fire Service arrived and began a rescue operation by removing a window from the building, securing the men with ropes and pulling them back to safety.
We work as Window Cleaners in Dubai, Abu Dhabi and across the UAE.  Our hearts sink when we hear new such as this and all we can do is thank god they are safe, and ensure we all educate ourselves and staff on ensuring the highest safety standards are adopted.