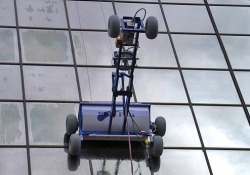 Robots Could Replace Dubai Window Cleaning Jobs
February 25, 2016
Ben Warren">Ben Warren
Abu Dhabi Window Cleaner Abu Dhabi Window Cleaning Companies dubai window cleaning Dubai Window Cleaning Companies facade facade cleaning glass cleaning high rise IRATA robots rope access safety window cleaner
There's always talk of technology replacing people.  It's never easy for those that could potentially loose their jobs, but the reality is, there's no getting away from it.  Skills obtained by individuals are required to change and keep pace with the modern age.  Technology is not a bad thing, there's efficiencies to be had and often savings to be made in the long term.
Some analysts have predicted that more than five million individuals globally could be replaced by robots in the next decade.  Window cleaners and even painters are part of that number.  For example a new drone has been designed based on a robotic system, which eliminates the need to put workers at risk on tall ladders and against high rise facades.
As one of the more dangerous jobs in across the Dubai, Abu Dhabi and the UAE, with some deaths each year due to falls this is something technology could change for the better.  Instead of sending men up ladders and scaffolding, we could send a quad-copter up the side of a building facade with a water pipe and connection.  The pipe could also have electricity and paint if needed. 
We've seen some early demonstrations of these types of robots, and even though they are not perfect, there is definitely energy and resources being invested to make machines of this nature more efficient and effective.  It wont be long before we have an ideal automated window cleaning solution. 
If it means clients save money, and we as people save lives, it's definitely something we would encourage.