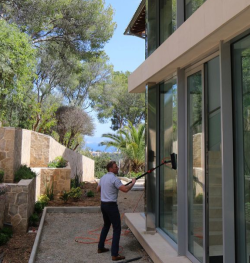 Serious Villa Window Cleaning Fan
June 4, 2016
Ben Warren">Ben Warren
Abu Dhabi Dubai frames glass high home house power villa window cleaner Window Cleaning window cleaning companies window washer
The Clean Team loved this story when we read it.  It just showed us how seriously some people take their villa window cleaning and glass cleaning. 
So in the news this week we read that a millionaire house owner was so impressed with his window cleaner he flew him out over 1,000 miles – to work on his holiday villa, washing windows.
The lucky guy was Luke Rayner, who runs a window cleaning business in the millionaire's playground of Sandbanks in the UK.  He was stunned when a wealthy customer took such a liking to his work that asked him to clean the windows at his £8 million Spanish villa. 
The customer who has not been named, paid for Luke to fly out to Puerto Portals, an expensive upmarket resort overlooking the Bay of Palma in where he had recently bought a property.  Luke used pure water reverse osmosis cleaning to wash the exterior glass of the villa.
He then spent a few days there drinking, and making sure the windows were gleaming at the hilltop property.  .
The chuffed window cleaner said: "I've been cleaning this guy's windows for a long time. I assumed he liked me. We got on well.  "Last year, he asked me if I would be up for going to Majorca – and I said yes. The mansion was great, the type you expect to see in places like this, and the type I've seen in places like Dubai.  The modern house is stunning and has a lot of large windows and plenty of glass surrounds. It looked superb when I'd finished."
It's really great for us to read stories like this as it makes us realize how happy we make some people. 
The Clean Team clean villa windows across the UAE including Dubai Window Cleaning and Abu Dhabi Window Cleaners.  We also have a sister company is Doha, Qatar called BlackRope Cleaning Services.