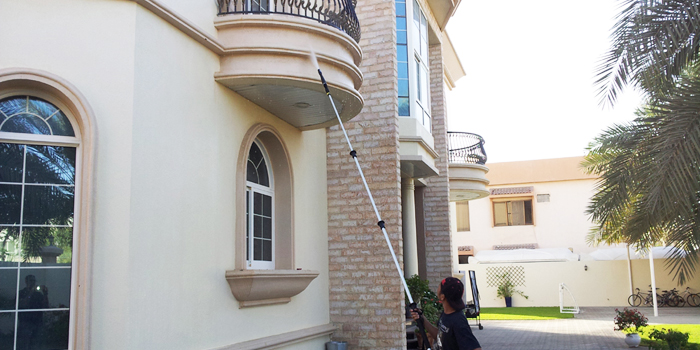 Bring your home back to life
Multiple washing techniques used
Save money in the long term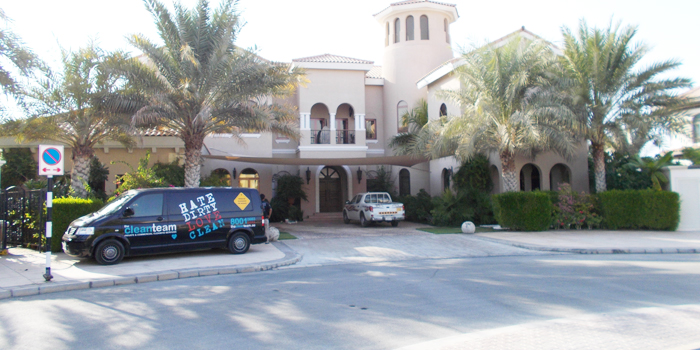 Sand and dust, there's no getting away from it!
Give your home the curb appeal it deserves
Safe and efficient cleaning methods
 "Be proud of your home…"
The UAE is a great place to live, but it can also be very hot and dusty for a lot of the year.  It's hard to imagine when driving through the cosmopolitan cities of Abu Dhabi and Dubai, but we are living in the dessert.
What this means is that we should be giving the external surfaces of our home some attention with respect to cleanliness.  Leave your car outside uncovered for a week and you see how much dust it collects.  Your home is collecting the same.
Not washing your home regularly allows dirt and many other contaminants to become embedded in your buildings surfaces.  Beyond the negative impact this has on your home's beauty and curb appeal, it will also quickly devalue your home and destroy its exterior.
The Clean Team uses the latest technology and cleaning methods to ensure your homes surfaces are given new life.  Power washing and soft washing methods are used and where necessary, biodegradable cleansers that safely remove contaminants may also be adopted.
Don't endure another day living in a dirty house.  Our House Washing service is ideal for all types of surfaces, we can help bring your home back to its best.   By using The Clean Teams building washing services, you will be saving money in the long run by preventing costly repair due to neglect or replacement costs.
Call us on 8001 5683 (LOVE) for your FREE Quote!
Why Us?
100% environmentally friendly
Safe, efficient and effective
Windows stay cleaner, longer
No scaffolding or ladders used
All staff are English speaking
Superior customer service
Windows stay cleaner, longer
No scaffolding or ladders used
All staff are English speaking
100% environmentally friendly
All staff are English speaking
Superior customer service
All staff are English speaking
Windows stay cleaner, longer
No scaffolding or ladders used
All staff are English speaking
Superior customer service
100% environmentally friendly
All staff are English speaking
Superior customer service
All staff are English speaking